Bournemouth is the largest town and most popular resort in Dorset. It has miles of golden beaches and the cosmopolitan town is also renowned for its pine trees and wooded parks. The Bournemouth International Centre is one of the best known conference centres regularly hosting Political party conferences, while the airport confirms its international status.
Compared to some of the ancient Dorset towns, Bournemouth is a relative newcomer in more ways than one. Firstly it was only founded in 1810 by Lewis Tregonwell who originally bought some land on Bourne Heath, initially for his own personal house. On completion of this he then started to to develop other houses in the area, planting the pine trees that are today part of Bournemouth's intrinsic character. Secondly Bournemouth was originally part of Hampshire until until the local government border changes in 1974.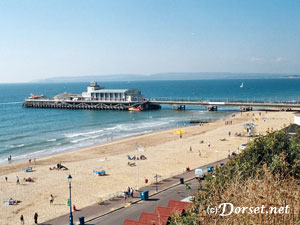 Bournemouth has a large number of Hotels, restaurants and other entertainment all catering for the large number of visitors who are regularly drawn by this appealing mixture of sandy beaches, wooded parks and a good atmosphere.
Other attractions include Bournemouth Pier has a lot of facilities including a mini funfair and entertainment in addition to boat rides. For a nominal fee you can walk out if only to enjoy the view of Bournemouth from the sea. There is also a smaller pier just along the beach at Boscombe.
The Oceanarium is a modern style interactive aquarium ideal for combining a fun day out with learning and conservation issues. The Russell-Cotes Art Gallery and Museum is an interesting building built in 1907 in an Art Noveau style set in a dramatic location on the cliff overlooking the beach. The museum houses art collections and other exhibitions, but there is also a children's area and a licensed cafe.
In contrast, the Central gardens are the perfect place to sit and relax when just need that break.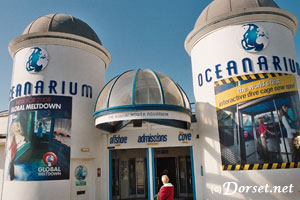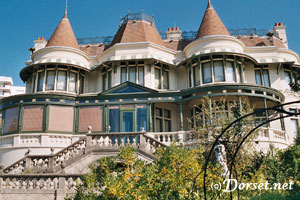 Bournemouth has appealed to a number of writers over the years. Mary Shelley the author of Frankenstein is buried in St Peters Church. Robert Louis Stevenson wrote some of his best known novels including Kidnapped in the town while other celebrated visitors included Lord of the Rings author JRR Tolkien
It is easy to see why Bournemouth retains its reputation as a good family resort that appeals to all ages.
Bournemouth Hotels
Bournemouth Bed and Breakfasts
Bournemouth Car Hire