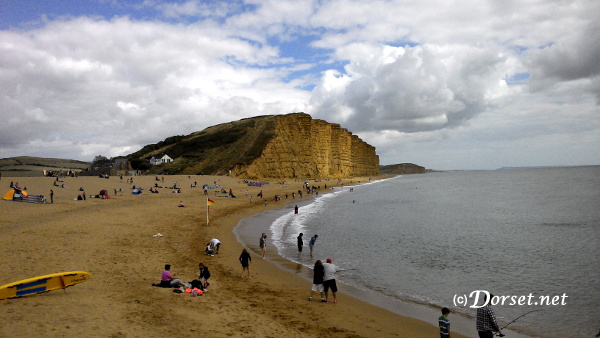 West Bay is located 1.5 miles south of Bridport and is sometimes referred to as Bridport Harbour. It has a fine shingle golden beach and the West cliffs are very distinctive in their shape and in the horizontal lines of harder and sofier rock.
West Bay is set on the River Brit and a harbour was originally built to the East of the current one to help export the ropes that were made in Bridport. This river tended to silt up and so the current harbour was later built to the West and once had 500 vessels a year use it at the height of the trade.
With the arrival of the railway to Bridport and later to the harbour, the harbour station was named West Bay.
As seaside tourism became a fashionable, more houses were built around the harbour area and in recent years, there are also holiday parks nearby. One of the largest buildings in West Bay is the striking Bridport Arms Hotel, a thatched inn that is located on the beach.
West Bay has also been used as a location for television programmes such as Reginald Perrin and more recently in Broadchurch, with the distinctive cliffs being one of the main features of the series.